Growing cereals, farming over 200 sheep and running a microbrewery sounds like more than enough for any modern farmer. But in 2020, Steve and Sally Urwin felt like they were up to the challenge and decided they wanted to diversify even further. So in 2020, that's just what they did: they set up their first pig unit. Despite the industry challenges, the couple have been successful as producers. They're now nurturing happy, healthy pigs and together, they've discovered a newfound passion for pig welfare.
"The first few years have certainly been a 'steep learning curve", Steve says "but they've also been extremely rewarding both personally and financially. We're now looking to set up a second pig unit and develop the business of rearing pigs to the RSPCA's higher welfare standards."
Making A Commitment To Farm To RSPCA Assured Standards
"Being part of RSPCA Assured is incredibly important to me as it matches my own beliefs and commitment to caring for animals and giving them the best life possible. It's been a real pleasure looking after our weaners (pigs weaned by their mothers until about ten weeks), seeing their personalities develop and coming to understand their natural behaviours. It's been hard work but our pig unit is a great addition to the farm."
Synergies of pig farming with existing farming operations
Although Steve and Sally are new to pig farming, they are tenth-generation farmers and their family has been farming in Northumberland since the 1500s.
"We wanted to find another complementary business for our farm and a chance meeting with a representative from BQP (part of Pilgrims UK, one of the biggest providers of high welfare pork in the UK), at a cereals trade fair showed me that pig farming could be a great fit. Their philosophy of animal care matched my ethos, all their producers have to be RSPCA Assured. That convinced me to give pig farming a try!"
Making The Most Of All The Resources Available At The Farm
"We've already seen the businesses run side by side extremely well. The pig unit has come along at a good time as there have
 been problems in the farming industry with the price and availability of good fertiliser and we now have a ready supply of pig muck which is great for the land. On the other side, we produce feed for the pigs as well as different kinds of straw which is so important for pig enrichment."
Enabling The Best Life Possible For The Pigs
"Our first batch of weaners arrived in May 2021 when 1,000 pigs arrived at the farm and we had a lot of support. We are now on our fourth batch. We aim to get the pigs happily settled and expressing their natural behaviours. The whole point of doing this is to rear happy, healthy pigs. I am proud to be associated with RSPCA Assured and want to go above and beyond all welfare standards. I think good welfare is the future of the industry. The product we produce is of the highest quality and the animals have the best life possible. I am pleased that consumers are increasingly understanding how important this is."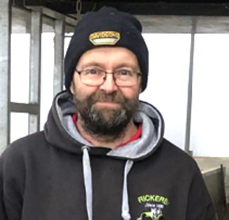 The Difference Between RSPCA Assured And Other Accreditation Schemes
"Many people don't realise just how intelligent pigs are. When you see them interacting with straw and enjoying their surroundings, you realise how they simply couldn't thrive on slats*- which are not allowed by RSPCA Assured - and with good reason."
* Many pigs that are not reared to RSPCA standards are kept in crowded conditions, on bare slatted (like concrete grates) or concrete floors. As well as being uncomfortable these conditions can increase the risk of foot and leg problems, including lameness. Slatted floors also limit how much straw or other materials can be given, as they fall through the gaps. This reduces the pigs' opportunity to carry out natural and stimulating 'rooting' behaviours. This can cause boredom and frustration which in turn may lead to other problem behaviours which can cause serious injury and discomfort.
The Rewards Of Caring For Pigs To Higher Welfare Standards
The more Steve observes his pigs the more he learns about their behaviour and their personalities. "I'm not saying that pigs smile exactly…but I've kept both sheep and cows and it's much easier to tell when a pig is happy."
"Pigs are individuals and have very distinct characters. Some are friendly and playful and will be waiting for you when you enter the pen while others are the 'chatty' ones and will greet you with a happy bark."
Providing Enrichment To Encourage Natural Pig Behaviours
"A healthy pig will be inquisitive. In addition to straw, we like to provide them with different items to chew on and nibble at. We have lengths of rope hanging over the pens for them to pull on - and just like dogs - they like sticks and will take them away and bury them.
Pigs are so intelligent, they notice things and feel and sense with their mouths and noses. They enjoy trying out different items so we like to keep them entertained with everything from chew toys to spiky balls and salt blocks. We were so surprised early on at just how quickly pigs can work things out. Sometimes, when we introduce new enrichment items, we turn our back for a few minutes and they've disappeared! They keep us on our toes".
Recognition For The Team With Pig Farming Apprentice Award
"We are a small team and have been lucky enough to take on the most fantastic apprentice. Aimee has been with us for the last 18 months. She comes from a non-farming background but her passion and enthusiasm for pigs is second to none. We are so proud of her aptitude and commitment, and she was recently awarded Apprentice of the Year by BQP. Aimee is an incredible advocate for the industry, for young people in farming and for pig welfare. I've discovered how much I like pigs over the past couple of years but that's nothing compared to Aimee!"
The Future Of High-Welfare Pig Farming At High House Farm
"From our experiences of pig farming over the past two and a half years, there is no doubt that it's hard work - but it is also incredibly rewarding. We spend at least three hours a day with the pigs and sometimes this can be five to six hours alongside the other parts of our farming business, it is a big commitment. But if you are going to do it properly it's what you need to do. By spending time with the pigs you learn about them and understand their needs and can pick up on any potential issues quickly. Giving them a happy life gives us a happy life. I believe that it is the only right way to do this job.